Tripawds is a user-supported community. Thank you for your support!
Hi Again!
The last two days have been chalk full of fun, and I thought I would share the highlights!
Yesterday was the first day that both my Mommy and Eddy went into work at the same time since I became a Tripawd. I was not phased at all when they set me up in my crate before they left. My crate has become a comfort to me during my recovery, an old friend of sorts, where I feel completely at peace, and can sleep the day away. So thats exactly what I did, sleep. Before I knew it they were back home and greeting me with smiles, pats and words of love.
We then went on the longest walk I have been on yet on three legs! Mommy heard that digging in the sand can be helpful to my remaining front paw, so we went down to a beach volleyball court (not being used at this time of year) to do some digging. It was a bit of a struggle at first to get the mechanics of digging with one paw, but it was so fun! I did, however, get tired pretty quick. Digging is hard when you are a front-legged Tripawd.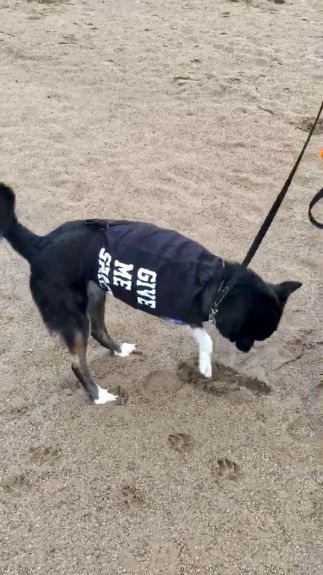 So, after I got tired of digging, we continued on our walk on the boardwalk by the ocean. I loved seeing all the people and puppies that we walked by, as well as chasing any seagulls or pigeons I could see. My pawrents could tell that I was not one for realizing that I don't quite have the energy I used to, so they made us turn back earlier than I would have wanted to. But, they were right, by the time I got to the bottom of the hill that we have to take back up to our home, I was pooped. My Eddy had to pick me up and carry me all the way up the hill. I swear I almost fell asleep in his arms.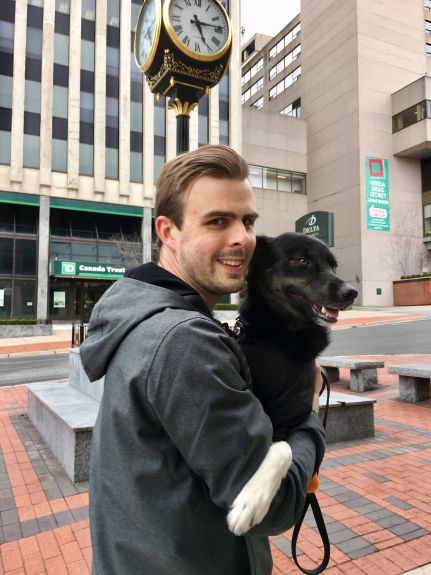 When we got home, Mommy and Eddy showed me a new toy that my Martha and John had gotten for me! It is so cool! It sticks to the floor and makes a funny "pop" sound when I pull it/knock it off the floor. After I played with that for a little while, I realized how tired I was from the afternoon's fun. So, I quietly tucked myself back into my crate to build my energy back up. Besides my bedtime walk, that was all of my adventures on Monday.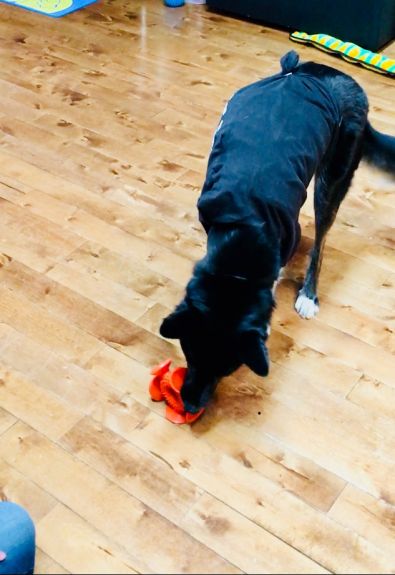 Today was also super enjoyable. Although my pawrents had to go to work again, we spent another fun afternoon together. For our walk we got to go on one of my old favourite walks to a park a few blocks from our home. We used to always do this walk before my surgery, so it was really great to be able to do it again. I got to sniff all the familiar sniffs, and see some of the familiar faces. It was a blast! But, again, like yesterday, I have learned I don't quite have the energy I used to. So this quick "old favourite" walk of mine takes a bit more out of me than it used to. So I, again, tucked myself into my crate to rest up. Besides a few plays with my new toy and balls, and my bedtime walk, that was it for today.
Tomorrow is another big day for me, says my Mommy and Eddy. They tell me tomorrow I start something called chemotherapy. I am not quite sure what it is, but they tell me that they will be with me tomorrow on this new adventure. I am glad they can be there for me.
Love, Hudson.