Tripawds is a user-supported community. Thank you for your support!
Hi Everybody!
On Wednesday morning my pack (Mommy, Eddy, and I) gathered all the necessary supplies into the car and went on the, all too familiar, 1.5 hour drive to the Dr. for me to get my first round of Chemotherapy. When we got to the Dr. all of the exam rooms were busy, so we waited out in the front room to await further instructions. While we waited I spotted a new toy I just had to have. My pawrents couldn't resist giving me what I wanted on a day like today. So I marched over to the receptionist with the toy in my mouth to add to my tab. The lady kindly cut off all the tags and gave it back to me. It is big, and red, and squeaky with a bunch of little tentacles on it. I loved squeaking and shaking it around in the waiting room.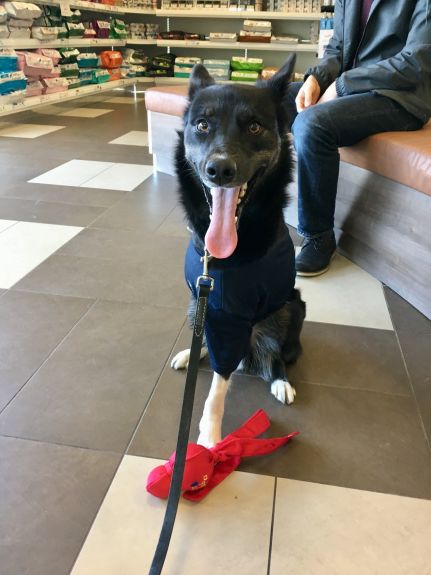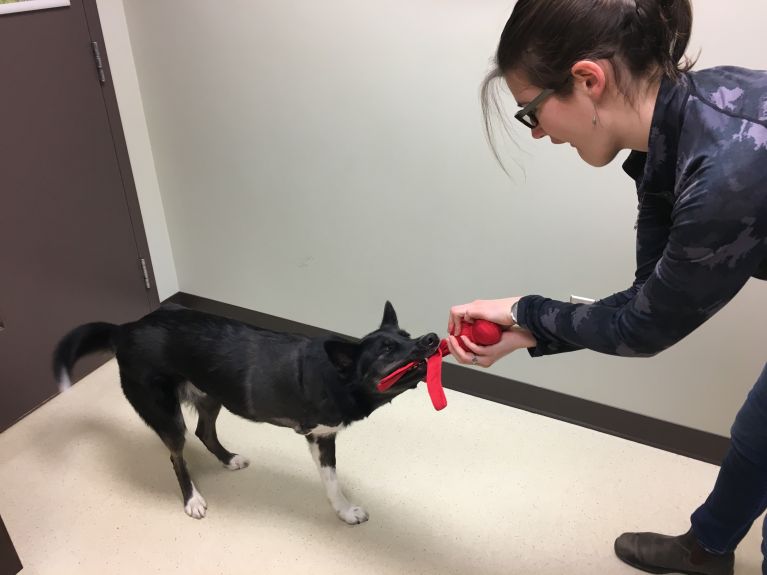 Eventually the time came when an exam room was available, so we all got up and hopped over to the room, me proudly flinging around my new toy. I was playing tug with my Mommy when the Dr. came in to see us. He seemed pretty happy to see how easily I was getting around, and at how well my incision was healing. He seemed so happy, that I couldn't resist swishing my tail back and forth and smooshing over to him for pats. After a little chat with my pawrents, my Dr. took me back into the back room, away from my Mommy and Eddy. I wasn't sure what was going to happen next, but I was so focused on finding where all the other puppies and kitties were at that I forgot to be nervous.
After a bunch of pokes, and something that made me feel a little sleepy, and again after something else that made me feel a little less sleepy, and after all my staples were removed, I finally got to see my pawrents again. Seemed like ages (they later told me it felt like forever for them too). But, again, after a quick chat with our Dr. I got to go out into the wonderfully warm sunny spring day to freedom. I was pretty happy for the long car ride home, at this point, as I was really sleepy after the events of the day. When we got home, I continued to sleep most of the night… but somewhere around 9:00pm I got all sorts of energy back. So I convinced my Mommy and Eddy to play with me for a few minutes before we went out for our bedtime walk and finally back for a long sleep.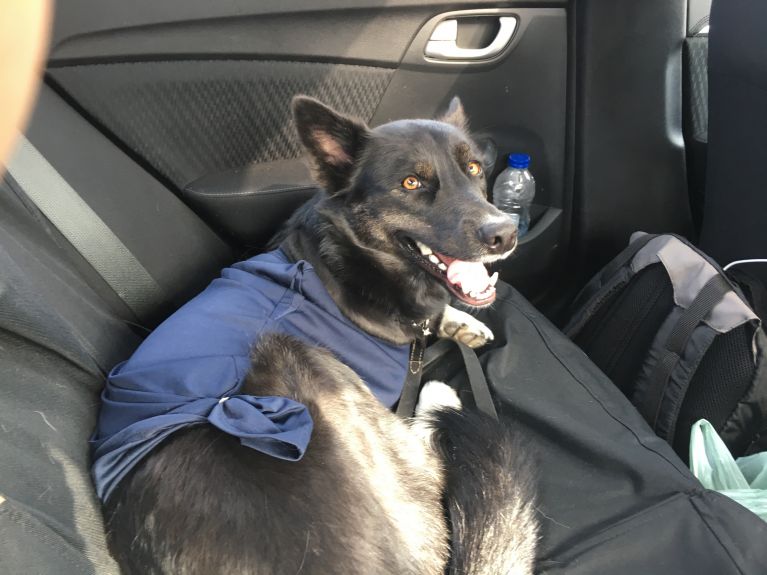 Then, Thursday came all to quickly… and I didn't feel so good.
When I woke up on Thursday morning I felt pretty nauseous. Not to the point where I was physically sick, but to the extent that I didn't want to eat anything. No kibbies, no nothing. I turned my nose away at all my usual favourites. I did, however, really have to go to the bathroom. My Eddy usually takes me for my morning walks during the week, but this morning walk was a little different. I was still with my Eddy, but my belly was super sore this time. I went to the washroom twice, and my Eddy noticed that this wasn't my usual morning bowel movements. Much to my embarrassment, he told Mommy when he got back, and then she called and told the Dr! The Dr. told my Mommy that I should go see my local Dr. right away to get me checked out.
So, again, I was back to the Dr. But this time it was my usual Dr, who is only a few minutes away. He checked me out, and didn't see anything that was too scary (no fever or irregular heart rate). However, he did say that it isn't usual to be this standoffish to food, or have a bad belly, this soon after chemo. To help me out he sent me home with some pills (antibiotics, probiotics, and anti nausients to be used as needed. He also sent me home with some fish oil to put on my food to help fight back against the cancer!).
My Mommy ended up staying home with me that day to monitor me, and also, to try and convince me to eat. She seemed pretty worried about me. I finally ended up eating at 5:00pm, when she made me some rice and beef mixture. Coincidentally, about a minute after I ate that, I had a whole bunch of energy and wanted to play! She then, a little while later, convinced me to have a few of my kibbies mixed in with the rice and beef. I tried to eat around the kibbies, but, on the odd occasion, a kibbie or two got in, and I remembered how much I liked them, so I ate it all. My pawrents were so pleased.
After that little scare, I have pretty much been my normal self these past few days. I have been loving playing with all my toys, as well as going on short walks around the block. I have also loved stopping in at some of my favourite shops to see some of the best people. I have also made sure to keep getting plenty of rest, and water (I cannot seem to get enough of that!).
Until next time!
Love, Hudson.