Tripawds is a user-supported community. Thank you for your support!
Hi Again!
I have not been posting as frequently lately because I have been conserving my energy by making sure to get plenty of rest in the comfort of my big cozy crate.
Yesterday, I was home with my Eddy again. While he worked from home I slept the day away. When I went for my afternoon walk I saw the Tripawd man again! He is the best. He always gives me the best treats.
That night, my uncle Derek came over again (loving all these visits). While he was over I laid down in the living room with everyone, but left to go back to my crate when all their shouts of both excitement and anger at the big bright box got too loud for me (they were watching something about hoomans with sticks fighting over a flat ball…not sure what thats all about).
And that was pretty much it for yesterday. Super lazy day.
Today started out pretty much the same, except that Mommy was home with me. Oh, and also, it was raining so hard today. Mommy and Eddy outfitted me in something they called a "poncho"… but I could tell it was just a garbage bag with holes. Anyways, I guess they must have knew what they were doing because I stayed dry as could be where my bandages were. After my exciting excursion outside in the rain, I spent the rest of Mommy's work day sleeping, refusing food, and being kinda grumpy (I think it might be this medicine that is throwing me off).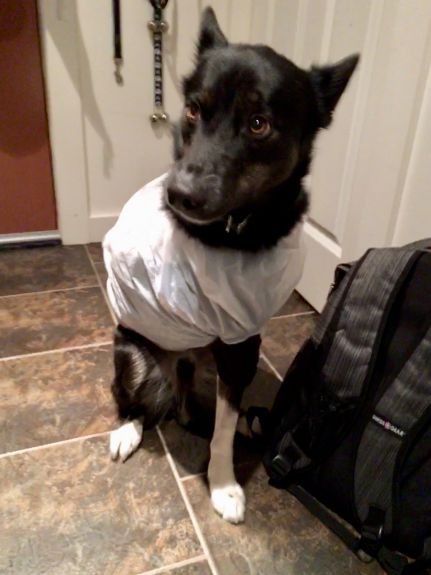 Later that day, when Eddy got home, I finally decided it was time to dig out my favourite balls and have a little play. I was a bit hesitant at first to go after the balls, even though Mommy and Eddy were only gently rolling them towards me. But, after a while, I got my footing under me, and I was determined to stop any ball headed in my direction. My pawrents were so pleased to see me playing again. I will have to make sure to do it more often. It IS super fun!
Nothing much more to report from me lately. I have mostly just been lying down in my crate day dreaming about when I can run, hike, swim, and jump again.
Oh, one last thing. My Mommy and Eddy briefly mentioned that I might see my Blair tomorrow! I am so excited!!! I think it may even be for a sleep over. So stay tuned! I am pumped!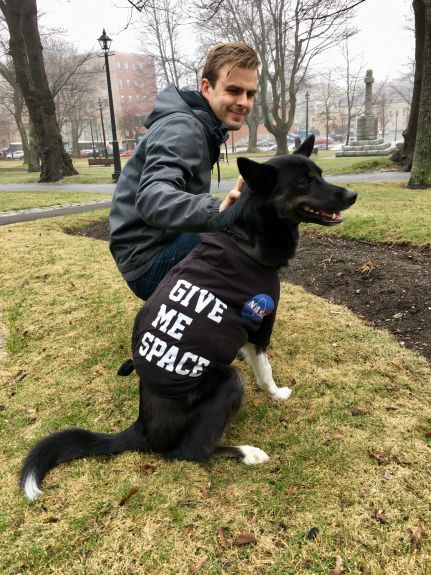 Love, Hudson.