Tripawds is a user-supported community. Thank you for your support!
Hi Everyone!
The last few days have continued to be very restful ones for me. When I am not getting up for a bowl full of kibbies, a slurp of water, or a short walk in the fresh air, I am tucking myself in to my comforting crate, my den. I mostly just go in there to lie down, to allow my body to rest. My mind, on the other hand, remains awake the majority of the time, which I think may be because of those white pills I see in the little peanut butter balls I get at distinct time intervals. But, regardless, I am giving my body time to get back to tip top Huddy shape, which is the whole goal! Mommy and Eddy have been commenting on how well everything is healing up when they change my bandages. Thats certainly reassuring!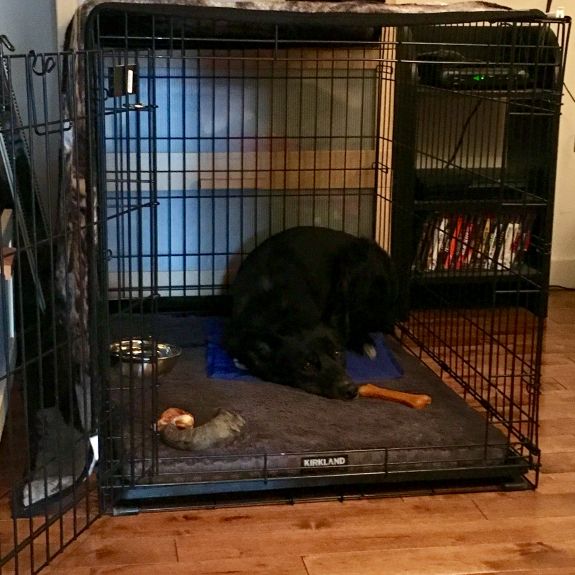 But enough about my sleeps… I had some visitors yesterday!
Yesterday my Eddy worked from home to keep me company. In the afternoon, after my lunchtime walk, I was surprised to find out that my Eddy would be leaving me for a little bit to go to work, and in replacement I got to see my hooman friend Erin! My bum was super wiggly to see someone other than my pawrents at home. I was still super sleepy for her visit, so I mostly lay in my crate. But, it was still so awesome to see another familiar friendly face.
And thats not all! Not long after my Eddy got back from work, my Blair came for a short visit! I was so pumped to see him again. I think he was amazed by how well I was getting around as a Tripawd so quick after surgery (trick is saving up all that energy from the naps I was getting!).
Shortly after my Blair left, Mommy came home, and I visited her at the front door, my tail wagging, for the first time in a few days. She said she was so happy to see my "sparkle" coming back. I even attempted to play with my favourite ball toys for a bit with my pawrents. They were pretty happy. My Eddy even filled my little treat ball with kibbies, and I had some fun tossing/nudging/pawing at the ball to get the kibbies out.
My evening ended with one last visitor, my uncle Derek! I couldn't believe that I had another visitor today. I don't think the day could have gotten any better. I felt so great, and more like myself, that I even lay down on the carpet in our living room, for the first time since Friday, so I could hang out with everyone.
And that was pretty much it for my Monday. Not to shabby of a day, eh?
Today was a lot more restful. My Mommy was working from home today. She made sure to come and give me occasional pats and passing words of love as I lay in my crate while she worked.
When my Eddy came home we all went for a car ride to go see my Dr. again. This time he mostly just talked to my pawrents. He did briefly look me over to see how I was healing, and he didn't give me any pokes or concerned looks, so I think I must be doing okay! My incision spot started getting real itchy, so he gave me a gentle scratch over my stitches. It felt so good! Him and my Mommy then bandaged me up again, put me in my Batman shirt, and I was out of there.
The rest of my day has been pretty restful, just chillen in my crate (Literally chillen. My pawrents got me one of those self cooling mats for my crate!). I get worked up when I go to the Dr. sometimes, so I have been very sleepy since then.
Until next time!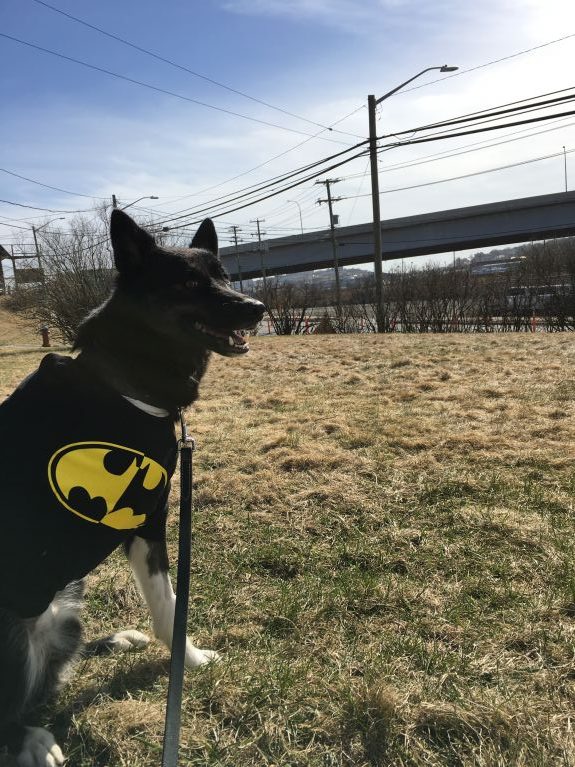 Love, Hudson.