Tripawds is a user-supported community. Thank you for your support!
Hudson:
Hi Everyone,
Sleep, eat, poop, repeat. That was the rhythm of my day. After Mommy and Eddy figured out that the only place I would settle from all my restlessness was in my crate, thats where I got the much needed rest my body so desperately desired.
By far the highlights of my day was spending time in the (finally) warmer sun. We didn't walk too much. I mostly hopped a few metres then would plop my bum down and take in all the sights and smells. But, I made sure to make these times in the sun last. A walk that would usually take me only 5 minutes I could now stretch into 30. I really liked the cool grass under my paws, and watching all the birds fly overhead. On one of my ventures I even saw a man who had a leg missing. He was super cool (and not just because he gave me treats)!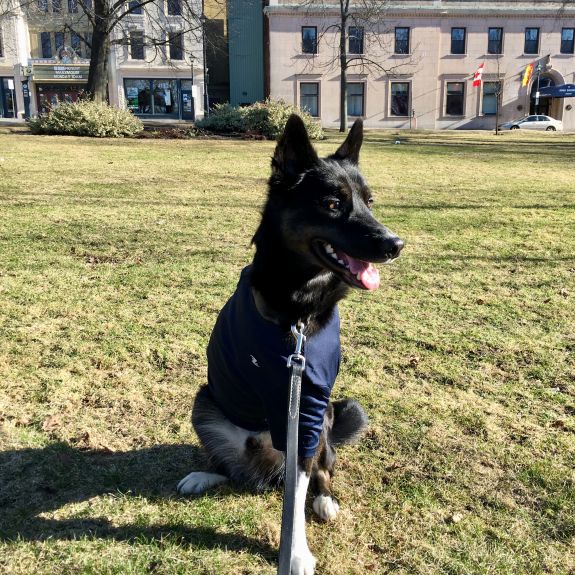 Other than that my day was spent in the bedroom in my crate while my Mommy and Eddy either read, slept or watched movies. Not the most exciting day of my life, but certainly one of the more restful days! I cannot wait for this recovery to hurry up so I can get back to my normal hyper self.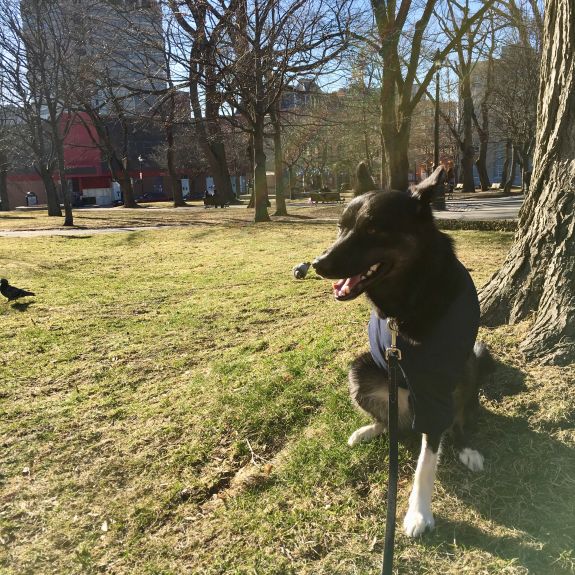 Love, Hudson.
Hudson's Mommy:
I am very thankful that Hudson has been able to calm down and get lots of rest today. Heck, even Hudson's Eddy and I got to rest almost all day too. Double bonus!
I don't have much more to report on the day than Hudson did, except to add a little spice of nerdiness. While Hudson was sleeping we watched "The Lord of the Rings: The Fellowship of the Ring". I hadn't watched that movie in ages. I was very surprised to find that I could draw many similarities in that movie to what we are all going through right now together.
Firstly, there is a conversation between Frodo and Gandalf that really struck home with what we are going through. It is as follows:
Frodo Baggins: I wish the ring had never come to me. I wish none of this had happened.
Gandalf: So do all who live to see such times. But that is not for them to decide. All we have to decide is what to do with the time that is given to us.
This quote hit me because I feel like Frodo does. I wish Hudson's cancer had never happened. That he was still his happy 4-legged self, who doesn't have to be in pain right now, or go through chemo later. But, as Gandalf suggests, this is not something to dwell on. We need to continue to make the most of our time together and be as positive as possible.
The second similarity I found in the movie is the unwavering bond between Frodo and Sam. Frodo is tasked to destroy the ring of evil, and Sam is by his side no matter what. To support his friend through this incredibly difficult time.
In this example Frodo is Hudson, who has been given the task of attempting to beat (or at least delay) his cancer. And Eddy and I are his faithful Samwise, there for him through the thick and thin. Never to leave his side, even when the going gets tough.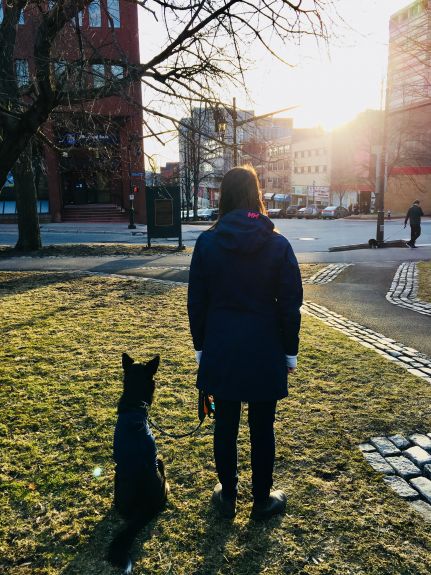 Love, Hudson's Mommy