Tripawds is a user-supported community. Thank you for your support!
Hi fans, friends, loved ones, and fellow tripawd community.
Today ended up being a fantastic day, for I got to reunite with my pack after my sleepover at the Dr.'s. Man was I excited to see their faces and smell that comforting aroma of family. The pack united again. But, I am getting ahead of myself…
This morning I woke up, after a much needed long rest, to my first full day as a tripawd. And boy, it was a piece of cake getting around. I had all the technicians and vets smiling and awed at how quickly I adapted to my new body. My Mommy and Eddy called the Dr.'s office right after they woke up this morning, and they were telling them how I had just come in from a venture to the bathroom (a total success, by the way), and had a happy smile on, my tail swishing back and forth. I think if this was a test at school, I would have gotten an A+, and the award for best behaved and fastest recovering pooch!
I continued to be monitored throughout the day by the friendly staff, putting smiles on their faces in between my naps.
Then, finally the time came to be reunited with my pawrents. In order to prepare to see them there were a few hurdles to overcome. First, I wasn't too excited about getting my IV removed. So, those clever techs had me snatching for treats while they did their dirty work and removed it before I could protest further. Next, they had me put on my Batman shirt, mainly because it looks adorable, but also to decrease the shock for my Mommy and Eddy.
Then, one hop after the other, I darted my way out of the surgery room, through the staff desks and into the exam room, where my pawrents awaited me with open arms and smiles. I think I amazed them with just how steady I was getting around, like it was no big deal.
Before I knew it we were outside and in the car for the long awaited car ride to my favourite place, home. All this excitement took a lot out of me, so I napped and dreamed the whole way home. I felt so comfortable and at peace with my Mommy's arm always on me.
When we did finally get home, I just couldn't contain how pumped I was to be back with all of my toys. Mommy and Eddy let me gently play with my ball and dragons. It was the best time! But, all that excitement got the better of me, and the reality of how exhausted my new body was, took hold, and I was down for the count for the rest of the evening.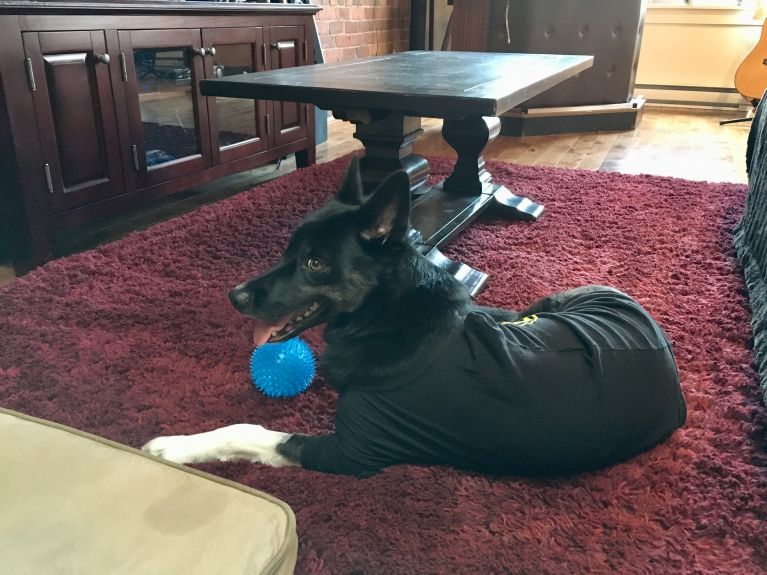 And, oh, I almost forgot! When I went out for my bedtime pee, guess who I saw??? My buddy Kora!! Her Mommy was pretty quick to scoop her up, probably because I am not quite ready for the tackles that we usually have when we see each other, but it was still so exciting to see her again.
Now, it is time to have another much needed long sleep. Goodnight!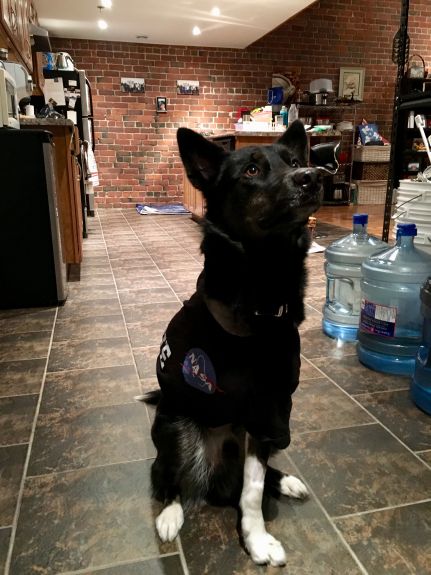 Love, Hudson.
P.S. Sorry for letting my Mommy take over my post yesterday. Sometimes she can get sappy. I wont let it happen again 😛